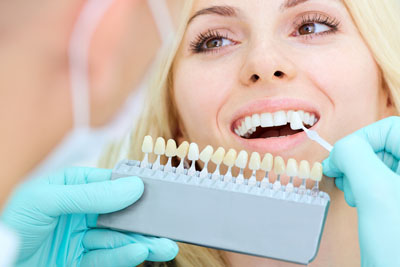 Before you get veneers, you may want to have the process laid out for you by a professional veneers dentist. We realize that it is important for our patients to know what will be done to their teeth and how they can achieve beautiful results from a dental veneers procedure. We gladly explain this exciting treatment and how it can benefit your smile.
What are dental veneers?
Dental veneers are a thin shell or layer that we bond to the front surfaces of the teeth. Most veneers consist of dental ceramic also known as porcelain.
What do dental veneers do?
Dental veneers improve discoloration, darkened teeth, and spotting, chipped and fractured teeth, gaps between teeth, length issues, and general misalignment problems.
Who is the right candidate for veneers?
Our veneers dentist office does not recommend a patient gets veneers if there is decay in the teeth or the patient has gum disease at present. In these cases, we need to deal with first. If the patient has healthy, adult teeth and wants to improve minor cosmetic imperfections, dental veneers are the best option.
Are dental veneers a quality product?
Yes, our veneers are a quality product that is durable, resilient to staining, natural-looking, translucent, and attractive. Plus they last for years.
What does the dental veneer application process look like?
Most veneer applications will require two appointments to our veneers dentist office. Before we prepare the teeth, we will perform a deep clean to remove any surface stains. We will then use a shade guide to determine what color of veneers will best match the patient's teeth. We will gather the necessary information about the teeth to send off to the dental lab that will fabricate the perfect-fitting veneers for the patient.
The tooth preparation before placing the veneers will require us to gently modify the enamel on the fronts of the teeth to provide the best base for the veneers. Enamel alterations will be only 0.3 mm deep at the most. During this process, we will provide the patient with adequate local anesthetic, so he or she does not feel any discomfort. If placing the veneers will be a complex process, our veneers dentist may first apply temporary veneers to determine the best placement outcome for the teeth. We also use them to protect teeth after they have been prepared if the permanent set is not yet available. These temporary veneers will be replaced with permanent veneers once they are ready.
Once your personalized permanent dental veneers are ready, we will apply a dental cement to the fronts of your teeth then position the veneers into place. Curing, finishing, and polishing procedures will then be performed by our veneers dentist office staff to offer you the best possible dental veneers result.
We hope our dental veneers process has been explained in full so that you can now approach your treatment without any concerns. If you want any other information about dental veneers, please don't hesitate to contact our veneers dentist office at (516) 785-1188.
---
Related Posts
November 16, 2017
When wondering, "how long do veneers last on front teeth?" it helps to understand what they are and the process of applying them. Dental veneers, which usually consist of porcelain or a composite resin, are …
---